CCHS Canteen
Tuesday, Mar. 6th
Open Face Sloppy Joe $4.00

Thursday, Mar. 8th
Bacon Mac & Cheese $5.00

Tuesday, Mar. 13th
Chicken Caesar Wrap $4.00

Thursday, Mar.15th
Nacho's $5.00

Tuesday, Mar. 20th
Sweet & Sour Meatballs with
Fried Rice $5.00

Thursday, Mar. 22nd
Turkey Bacon Club $4.00

Tuesday, Mar. 27th
Chicken Fingers & Caesar Salad $5.00

Thursday, Mar. 29th
Tater Tot Casserole $5.00
Take a Seat!
Going on now! Have you got yours?
Follow us on Facebook
Like us on Facebook to have all our most up-to-date information come right to your newsfeed.
Who is this Mr Booker anyway?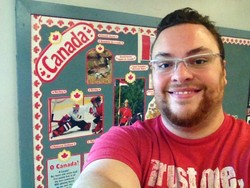 Ladies and gentlemen, boys and girls, children of all ages, I am Mr Booker! I'm a teacher here at County Central High School in Vulcan, and I specialize in Social Studies at the junior high level.I graduated from St Mary's University in Calgary with an English degree and Bachelor's of Education. I love my job, and I love this school!
Select a Teacher
Bus Status
VC43

On Time

VC44

On Time

VC45

On Time

VC49

On Time

VC50

On Time

VC51

On Time

VC52

On Time

VC53

On Time

VC54

On Time

VC55

On Time

VC56

On Time

VC57

On Time
On Time

Delayed

Cancelled